Museums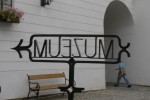 This permanent museum display with an exhibition hall is located in the village of Metylovice, famous for manufacturing whips and other leather processing.
Visit the birthplace of the world-famous founder of psychoanalysis Sigmund Freud and sit back on a copper couch – at first glance the same sofa where long ago Freud's patients gave up their secrets.
The museum is housed in the spaces of the Frýdek Castle in Frýdek-Místek. It includes a collection of natural science objects dealing with botany, mycology, zoology and geology from the regions of the Moravian-Silesian Beskydy and the Beskydy foothills.
The memorial is a unique reminder of the world famous and highly revered composer, Leos Janacek. This house, which is today a unique museum, Leos Janacek was bought in 1921 and was proud of him. In the last years of his life was his favorite place of rest.
Come visit an exposition of a primary school in the reconstructed building of the Manor House in Kozlovice, including the school office, private room of the schoolmaster, and above all the classroom, all mapping out how things looked at the turn of the 19th and 20th centuries. Very much worth a visit and unique in this region.
he old Chlebovice Manor House is today a listed building, first mentioned in 1320 in the documents of Bishop Konrad. The museum contains beehives from the oldest thatched hives to the latest ones made out of hardened polystyrene. You will also see here many types of honey separators, including the oldest type.
When visiting the region, you will certainly not want to miss a trip to the Regional Museum in Kopřivnice. At present, the museum consists of four permanent exhibitions, namely the Tatra Technical Museum, Lachian Museum, Bailiff's Museum, and the Exposition of Emil and Dana Zátopek (in the Technical Museum).
An original exhibition dedicated to the production process of hats can be seen at the Nový Jičín Visitor Centre – the city of hats. 
Exhibition of the world-famous painter of prehistoric times and adventure, a native of Kopřivnice who spent part of his life in Štramberk, and an exhibition on the prehistory, geology, paleontology, botany, history and ethnography of the city of Štramberk.
Car route planner
Plan your route by car by means of the route planner